Offshore web services and offshore telecommunications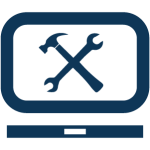 Offshore web services and telecommunications
We build your presence with web services and offshore telecommunications. Have you ever thought about using offshore web services? Although we are not a web agency, technology and automation have become an important aspect of our profession. You might be wondering, why is a law firm talking to me about web services? It' s simple, because we've experienced firsthand how crucial the proper use of technology has become today in terms of credibility, marketing, and billing. 
Over the years, we have created a network of contacts with freelance technicians who collaborate from different countries and offer quality services at highly competitive prices in comparison with the European and American market.  Therefore, we consider it fair to offer these services to all our customers and allow them to benefit from our unique international contacts and the experience we have accumulated over the years.
By outsourcing technicians and services in several jurisdictions, you will be able to access a wide variety of proposals and order high-value services at the best prices on the market.
Is a company without an Internet presence credible nowadays?  Evidently not, that's why we offer your personal or corporate websites to establish your presence on the web. Likewise, if you want to gain more visibility we can offer you SEO services, marketing, social networks and much more.
We also offer competitive prices for domain name registration with privacy, hosting, virtual offices, etc. You can choose from a wide variety of services, but we are proud to say that we have satisfied 99.9% of our clients' requests, including the most bizarre ones.
Offshore Telecommunications
We have also accumulated a lot of experience in the field of offshore telecommunications. But why when everyone uses Messenger, WhatsApp, Skype, etc.? Quite simply, because these communications work well for greeting friends and family, but they are not secure lines for discussing business.
We offer landlines and cell phones from almost every country in the world, with low latency (fast) VoIP lines and excellent audio quality not offered by many companies. In addition, we offer an exclusive service in Colombia, Europe, Panama, and Venezuela: SIM card hosting.
By hosting a SIM card with our technology, you can answer your mobile number anywhere in the world. You only need internet access. And if you don't have it, we can redirect your calls to a local number (toll charge applies). Best of all, you can receive SMS messages from your banks, wallets, and social networks. No matter where you are.
Doesn't roaming do all this? No, most roaming services have time constraints, high costs and are subject to agreements with the local carriers where you are. With roaming you will be paying a fortune without any certainty that you will receive the service.
Attention, if you are a scammer and you think you have stumbled upon the right product for you, you are wrong. We carefully identify clients and check their documents. These services are for business development and improvement, not for illegal activities.